NotaBene is a freeform textual database program. It is 'freeform' insofar that there are no forms to fill in, with their various 'fields' - you just enter your text as you want, and create new lines as appropriate to your needs. In fact, you don't even need to consider the database aspect at all - this is all handled by the program.
A strong feature of the program is the option to protect your information with data-encryption, and the program itself with a Password (even the password is encrypted in the System Registry). Normally, the database file on disk comprises plain text, which can be viewed, if required, with something like Windows Notepad, but if the Security Option is chosen, the file will be viewed as 'gibberish'. Once the program is running, it is easy to turn Security on/off, and you can change your password at any time.


Archiving your database file couldn't be easier - just copy it to some remote location as a backup in case you suffer something catastrophic like a hard-disk crash. The program has been written to make disaster recovery a cinch, even in the difficult situation of your database file being encrypted (in this case the System Registry entries would be 'fresh' after a new installation and would have no knowledge of the security state of your database file).


Database editing is a breeze - you have access to all the usual editing tools - Cut/Copy/Paste/Delete, and you can print all, or selected text, easily from the results of a search.


NotaBene has many uses. You can store all kinds of reference information - program passwords, Internet passwords, customer reference numbers for Utility suppliers, bank account details, support line contact details, reference information pasted from an Internet page, recipes, renewal dates (car MOT, Tax, insurance etc), Home Inventories with serial numbers, in fact the list is seemingly endless - and you will always have reference to everything at your finger tips. For programmers such as myself, I have found it invaluable to store useful snippets of code.


The program is available as shareware - you can download it here for a free 30 day evaluation. The cost of registering the product is $15, which entitles you to free updates for life. You will be purchasing a personal key that will permanently unlock NotaBene. You can use this key on any computer that you own. Please do not give this key to anyone else - apart from spreading your email address around the globe, you will be denying the program author a much needed income.


If you have any questions or need support email me at: support(at)vitalsparks.com
Version History
Version 1 - Plain text version with editing facilities.
Version 2.0 - Encryption added
Version 2.1 - Maintenance update and recovery from HD crash simplified
Version 2.2 - Stronger encryption implemented
Version 2.3 - Tab-stops and keyboard shortcuts added (editing)
Version 2.4 - Maintenance update. 'Nag screens' reduced for unregistered product
Version 2.5 - Windows7 compatibility update.
Version 2.6 - Encryption enhanced. 'Paste' now works when editing in Search screen.
Version 2.7 - Program always visible when running (cannot become hidden behind other applications)
Version 2.8 - New database editing features. Encryption is now even stronger.
NOTE - When updating to a later version it is recommended that you temporarily remove security from your database before installing the new version. Once the new version is installed, you can replace security. This is because I occasionally make improvements to the encryption algorithm, and running a new encryption over an old encrypted database is likely to corrupt it.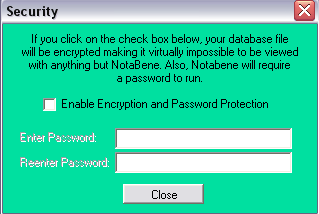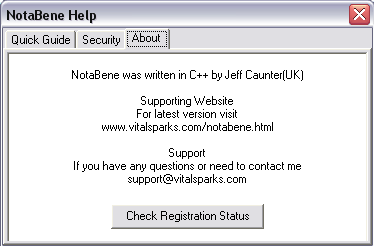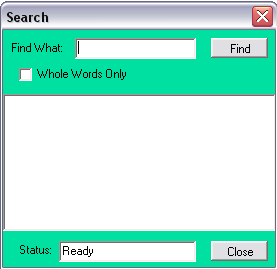 Close program
(Prompt to save changes)
Buy with confidence - when you click the Purchase button, you will be taken to my webstore which is securely hosted by eSellerate, a division of Digital River which is the world's largest eCommerce provider. They handle the financial transaction under high security, and accept all major credit cards, and also offer PayPal payment.
When in my webstore, select the product you want to obtain the key for and click the Buy button to add it to the shopping-cart. When you click on Check-Out, you will be asked for your e-mail address and card (or PayPal) details. When the transaction is complete eSellerate will e-mail you a receipt which will also contain the key to unlock the application. (NotaBene requires both your given e-mail address and the key to unlock).